Circa 1938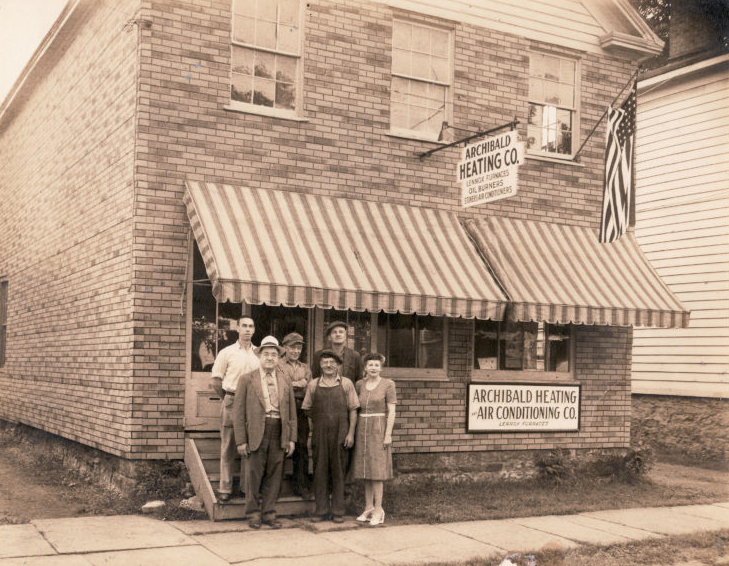 Archibald Heating and Air Conditioning Co. was formed in 1938 by my grandparents, William P. and Marvel Archibald. The company began its life as a dealer for the Holland Furnace Co. My grandfather's vision of a company that could be trusted to "do the right thing," as he used to say, began to take shape.
My grandparents began to build an organization that would stand the tests of time. A place where a family can grow and prosper, a place where a man can come to work and feel that he has contributed something to himself and to the clients. Our family business was built on the belief that there should be a connection with the customer, to be on a first-name basis with the owner, not lost in time, a number, or a forgotten person upon job completion. With his own hands, he began to forge the metal of this company. His institution of the Archibald Heating and Air Conditioning mission statement becomes my grandfather's vision.
Changes in the industry:
Coal burning was on its way out, and oil heating was on its way in.
Say goodbye to that coal bin and scuttle in the basement!
The first central air conditioning systems are offered.
The first steel heat exchangers are offered in warm air furnaces.
Hot water heating systems no longer have to be thermo-convection, the invention of the pressurized, pumped hot water heating system.
Circa 1974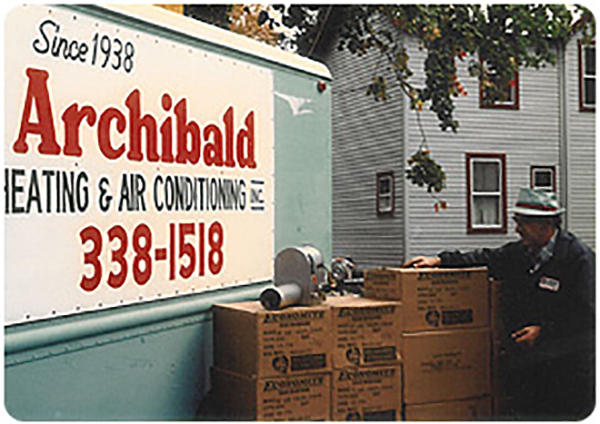 Growing up in the business, my father, Wayne, worked in the company business until his military service overseas during World War II. Upon his return, he worked in the company as an installer and service tech. After serving in those roles, he progressed to installation supervisor and then to design and layout. As part of the family tradition, you work your way through the company to become familiar with all aspects of the system types and operation.
In 1959 my father received ownership of the company. We were incorporated in 1959 at the time of my father's transfer of ownership. At that time, the decision was made to become Lennox furnace company dealers.
I am proud to say that my father served with distinction in all things he did. He never took the easy way out or turned back in the face of adversity. His legacy has given this company much more than a business. He helped forge an organization that remains true to the vision of his father, and that vision remains with all of our staff today.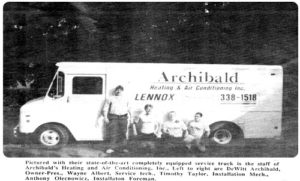 With great sorrow, we lost Wayne in December of 2006. He will remain in our hearts and minds everyday. His devotion to his father's vision, his rock-strong work ethic, and his guidance are sorely missed. As a tribute to my father's lifelong efforts, we are trying everyday in every way to continue my grandfather's and my father's vision of a strong company, with true attention to detail, heartfelt commitment, and a personal touch found quite rarely in business these days.
Changes in the industry:
Central air conditioning becomes affordable for the masses.
Gas heating becomes competitive with the installation of gas piping systems offered by utilities in city areas.
Comfort-based add-ons: central humidification, central system filtration.
Hot water baseboard displaces radiators as the preferred hot water heating system.
The oil embargo of the 1970s creates a demand for energy-efficient heating and cooling systems. The utilities and government agencies offer high-efficiency rebates.
The conversion from oil to gas becomes popular and affordable.
The construction industry begins to look at energy-efficient building construction.
Growing up in the busines (seems to be a pattern developing here), I worked with my grandfather and my father "learning the ropes" so to speak. Starting off as an installation helper, then a service mechanic, a system designer, and job foreman, I learned the business from the ground up, working with people who had been involved in the industry for a long time. It seems to be the Archibald way, and I may say, a good way.
I received ownership of Archibald Heating and Air Conditioning in 1989. In 1990, we decided to take on the Carrier line of heating and cooling products. We have been strongly committed to the line since and are enjoying a healthy relationship.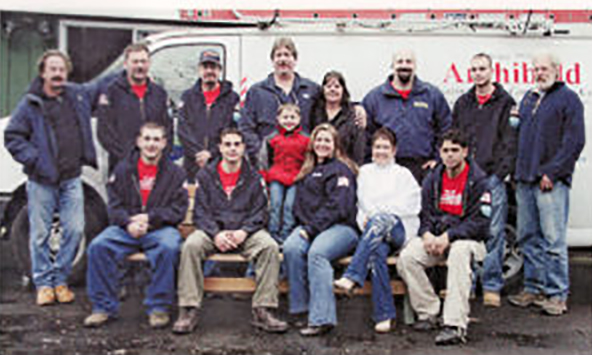 My grandfather and father left me with a strong sense of pride of ownership. Our staff is here to ensure a quality job gets done in a timely manner. Whether it be a complete system installation, repair or replacement service, or annual HVAC system maintenance, we hope that you will consider us as your number one source (aka your "go-to guys").
I would like to thank you for taking the time to learn about our company. We hope that we can fulfill your expectations. Our Mission Statement remains true in our hearts and minds.
DeWitt J. Archibald
President
What Our Customers Say ...
"I would like to personally thank DeWitt, Wayne, Dustin and George for an exceptional job in removing the old system and installing the new one. They treated our home and my family with respect. They were neat and clean and created a non-intrusive environment. The most important aspect of dealing with the Archibald's is their honesty and trustworthiness. They are truly a company that concentrates on making customer relationships, in a day and age when other companies are guided by greed, the Archibald's are at the top of their game with technology and professionalism. They have heart and that sets them apart from the rest! We recommend to anyone and everyone this is the only company to call for all your heating and air conditioning needs!
★★★★★
John H., Wappingers Falls, NY