What are the Advantages to a Geothermal HVAC System?
The Geothermal Advantage
When you invest in a geothermal system, you can be assured that you're receiving the highest-quality, best-performing heating and cooling system available.
Here are some of the benefits of geothermal ownership:
Lower Operating Costs:
A geothermal system operates more efficiently than ordinary heating and air conditioning systems – 30 to 60 percent more efficiently in most cases.
Comfort:
Because a geothermal system uses the relatively stable temperature of the Earth as an energy source, you're assured of constant, balanced winter heating and better humidity control in the summertime.
Safety:
There are no flames, flues, or odors with a geothermal system. There's no danger of combustion, fire, or carbon monoxide poisoning either. You get safe, reliable operation year after year.
Clean Operation:
A geothermal heating and cooling system minimizes environmental threats linked to fossil-fuel burning, including acid rain, air pollution, and the greenhouse effect.
Quiet Operation:
Geothermal heating and cooling systems are designed and manufactured to be exceptionally quiet. It will run as quietly as your refrigerator or freezer.
Flexibility:
Geothermal systems provide heating, central air conditioning, and hot water – all from the same compact unit.
Economical Water Heating:
Water heating can be a significant energy expense. A geothermal system can reduce the high cost of water heating by as much as 66 percent.
Good Looks:
The completely self-contained indoor geothermal system needs no noisy, unsightly outside condensing unit. Your neighbors won't have any cause for complaint.
Great Warranties:
In the unlikely event of a service problem, geothermal systems are backed by the industry's best 10-year parts and labor warranty.
Another Advantage: 4x the Efficiency
A geothermal system uses the Earth's thermal properties in conjunction with electricity to provide unprecedented efficiency. For every one unit of electricity the system uses, it provides four units of heating energy, giving a geothermal system a 400 percent efficiency rating. These numbers can translate into real savings on your utility bills year-round.
Take advantage of tax credits, utility and manufacturer rebates, and special financing available on energy-efficient HVAC equipment.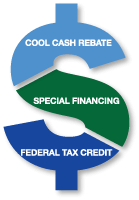 Try our one-click resource where you can find all tax incentives and credits, Carrier seasonal rebates, utility company rebates, and more for every Carrier product. Simply type in your zip code and get available federal, state, and utility rebates for heating and air conditioning products with links to all necessary submission forms.