Yesterday's Heating and Cooling Systems
Oh, the heating and cooling systems of yesteryear.
What could there be to miss?
Uneven heating, uneven cooling, huge utility bills ... and a total lack of comfort!
Uninsulated duct systems deliver heated and cooled air to all the spaces outside the area of occupancy.

A lack of filtration you can see! Next to all of the registers, streaks of dust, dirt and who only knows what.

A lack of humidity causing static electric shocks, dried-out cracked furniture, and sinus and breathing issues.

Hot and cold spots in the building without zoning considerations! No balancing, no control. The thermostat is set on 68, but it's 72 in here. The thermostat is set on 68, but it's 64 in here. Put on another sweater!

Holding your breath waiting for the next gas or oil bill? Oil was 25 cents a gallon then, nobody cared.
Today's new technologies and energy market are driving us towards more efficient heating and cooling systems. Electric heat pumps, gas furnaces with 98.5 AFUE, and ductless systems are among the many options that can deliver those efficiencies for improved indoor comfort.
Take advantage of tax credits, utility and manufacturer rebates, and special financing available on energy-efficient HVAC equipment.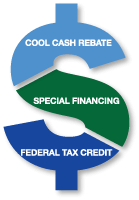 Try our one-click resource where you can find all tax incentives and credits, Carrier seasonal rebates, utility company rebates, and more for every Carrier product. Simply type in your zip code and get available federal, state, and utility rebates for heating and air conditioning products with links to all necessary submission forms.